The Pacific Northwest's deep maritime snowpack can create an unexpected danger of being trapped in the unseen void next to large trees. When skiing or riding off groomed trails in these conditions, always have a partner and keep each other in sight. The NSAA has also put together a great article on this topic –please follow the link.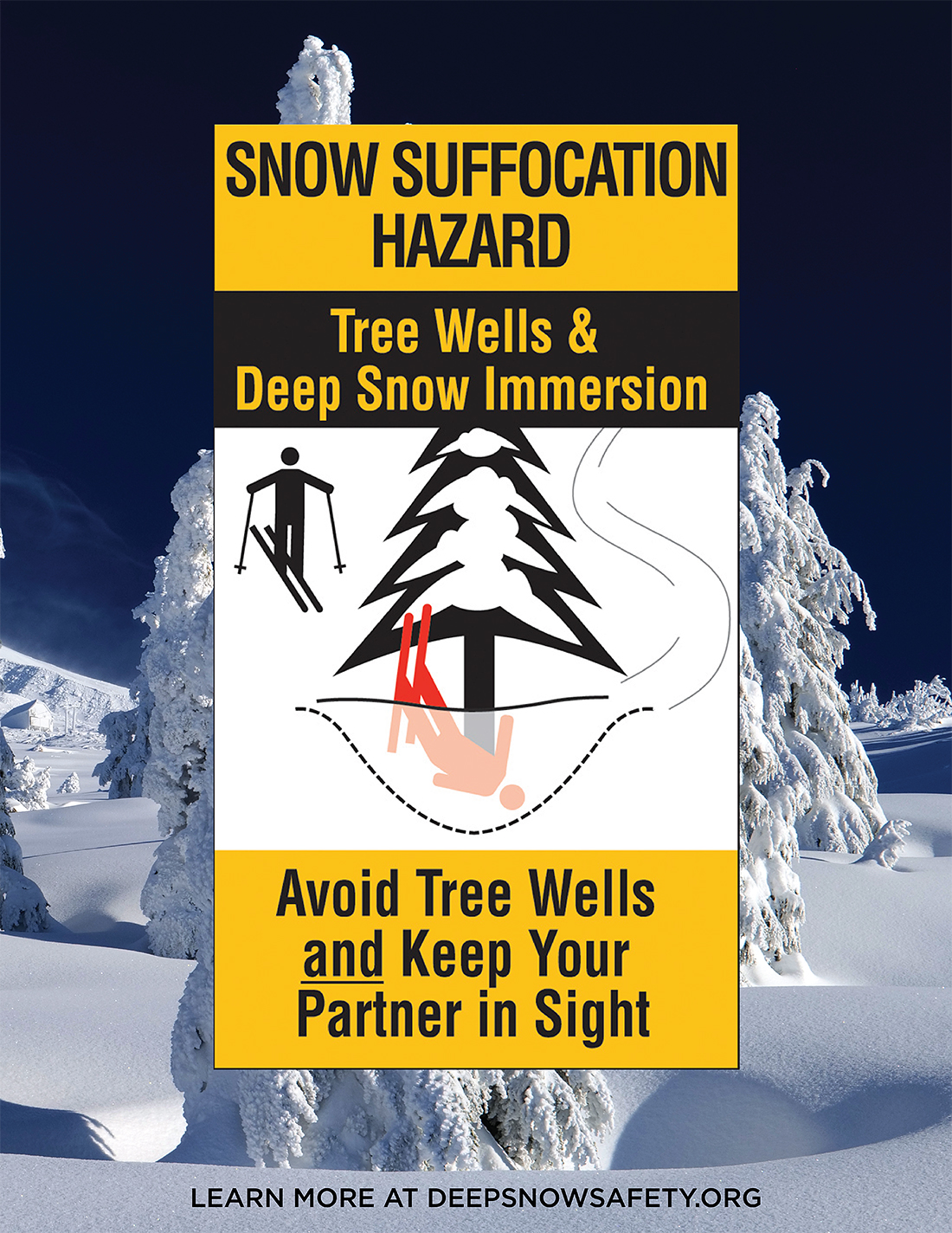 LEARN MORE
Timberline and Summit Ski Areas' Uphill Travel Policy allows for uphill travel on designated routes. All users, regardless of travel method, direction, and/or purpose are required to abide by the Oregon Skier Statute (ORS 30.970 to 30.990), NSAA Responsibility Code(s), and the relevant rules of use. In addition, all users travelling uphill are required to travel on designated routes and abide by the following principles:
1.YOU ARE RESPONSIBLE FOR YOUR ACTIONS. All users must recognize that alpine sports are inherently risky and accept all risks and responsibilities.
2. RESPECT THE SKI AREAS. The staffs at Timberline and Summit work hard to provide safe, high quality experiences and they ask that you respect the ski areas, as well as the natural environment.
3. STAY ON CLIMBER'S RIGHT SIDE OF ALL TRAILS. Stay to the right side of all trails/routes and be aware that you may encounter other skiers/riders, on-hill vehicles, and other equipment at any time. Do not travel on groomed/maintained surfaces.
4. USE CAUTION NEAR ON-HILL VEHICLES. Significant hazards may exist near on-hill vehicles and other equipment. Do not travel underneath, behind, or in close proximity to any equipment in operation.
5. STAY ON DESIGNATED TRAILS/ROUTES.
Lower Mountain Trails (below Timberline Lodge)
Glade
Alpine (merge with Kruser/Glade)
Norm's (i.e., Stormin' Norman liftline)
West Leg Road (merge with Nona's Bologna/Glade)
West Leg Nordic Bypass (merge with West Leg Road/Nona's Bologna/Glade)
Upper Mountain Trails (above Timberline Lodge)
Snowshoe Trail (starts east of Timberline Lodge)
Climbers' Trail (eastern edge of ski area boundary originating from Salmon Parking Lot)
6. DOWNHILL TRAVEL IS PERMITTED ONLY ON DESIGNATED TRAILS/ROUTES. With the exception of those trails/routes listed above, recreational use of ski area terrain (including groomed/maintained surfaces, terrain park features, and bike park trails) is not allowed inside the Timberline and Summit ski area boundaries without a valid lift ticket.
​CLICK HERE TO DOWNLOAD THE MAP

Timberline will no longer offer Climber Tickets, or "one ride" tickets, to the top of Palmer. The main reason for this policy change is Timberline does not promote activities that involve leaving the ski area boundary.

Climbing Mt. Hood is a serious endeavor that takes knowledge and preparation. For guests looking for information on climbing Mt. Hood please check U.S. Forest Service resources:
U.S. FOREST SERVICE CLIMBING INFO
U.S. FOREST SERVICE CLIMBING MT. HOOD VIDEO

For guided climbing information:
TIMBERLINE MOUNTAIN GUIDES
(541) 312-9242

Climbers must register their group and obtain a wilderness permit from the Climber Registration outside of the Wy'East Day Lodge, then proceed to the Climber's Trailhead adjacent to the Salmon River Parking Lot and avoid resort operations.

Your Responsibility Code
1. Always stay in control. You must be able to stop or avoid people or objects.
2. People ahead or downhill of you have the right-of-way. You must avoid them.
3. Stop only where you are visible from above and do not restrict traffic.
4. Look uphill and avoid others before starting downhill or entering a trail.
5. You must prevent runaway equipment.
6. Read and obey all signs, warnings, and hazard markings..
7. Keep off closed trails and out of closed areas.
8. You must know how and be able to load, ride, and unload lifts safely. If you need assistance, ask the lift attendant.
9. Do not use lifts or terrain when impaired by alcohol or drugs.
10. If you are involved in a collision or incident, share your contact information with each other and a ski area employee.
KNOW AND OBEY THE CODE.
IT'S YOUR RESPONSIBILITY.
If you need help understanding the Code, please ask an employee.
Officially Endorsed by National Ski Areas Association

Skiing and snowboarding can be enjoyed in many ways. You may see people using alpine, snowboard, telemark, cross country and other specialized ski equipment, such as that used by disabled or other skiers. Regardless of how you decide to enjoy the slopes, always show courtesy to others and be aware that there are elements of risk in skiing that common sense and personal awareness can help reduce.

Freestyle Terrain Parks come with their own unique risks. For more information please follow the link.

Terrain Park Safety
There is an inherent risk in skiing and snowboarding. Timberline views skiing and snowboarding in a controlled and responsible manner as the primary safety consideration for all riders. Wearing a helmet is a personal choice, but it's one we STRONGLY ADVISE, especially for children. Keep in mind that it is important that helmets be properly fitted and do not inhibit vision or hearing. For more information on helmet use for children, please follow the link.

Lids on Kids
Trail difficulty designations are relative only to Timberline Lodge Ski Area and may not correspond to what you find at other skis areas. When new to an area, we encourage you start out on terrain a notch below your ability level at other resorts.

Closure and Boundary signs are placed for specific purposes and impose specific responsibilities for skiers and riders.
For safety, Timberline Lodge Ski Area recommends staying on designated, groomed trails. Those who choose to venture into more challenging terrain should be aware of their greater responsibility for protecting their own safety and the risks they pose to others.

Timberline does not recommend out-of-bounds skiing or snowboarding. If you choose to leave the ski area boundary, you assume the risks of backcountry travel.

You must be prepared with the knowledge and proper equipment to navigate unmarked hazards, extreme avalanche danger, blow holes, rocks, cliffs, crevasses, tree wells, low visibility, limited access, limited return and all other hazards.

Be aware that all canyons lead away from the ski area, return may not be possible.

Once you are outside the ski area boundary you are responsible for your own safety, transportation and evacuation. Help, if possible may be hours or days away. You or your heirs will be responsible for the cost of your rescue.
Accepting the risk of skiing or snowboarding beyond the boundary should only be considered with the following:
a) proper avalanche education
b) proper avalanche equipment & training (probe, shovel & beacon)
c) being with a knowledgeable group or "buddy"
d) backcountry travel knowledge and experience
e) knowledge of local conditions including snow pack history
Ski and Snowboard tracks may lead beyond Timberline's boundary to where there is NO avalanche control, NO trail signs, CONFUSING route directions and DANGEROUS terrain traps. Rescue, if possible, will be slow and may be costly to you. Remember that hiking, skiing or snowshoeing into closed areas is prohibited.

Timberline does not allow snow kiteboarding or snow kite skiing anywhere inside the ski area boundary. Passengers are not permitted to board any Timberline chairlift with a kite and/or related equipment. Accessing the USFS Wilderness Area with snow kite equipment through the Timberline permit area is not permitted.

The Mt. Hood Ski Patrol is composed of nearly 300 volunteers, all dedicated to providing quality rescue and emergency care to participants in seasonal activities on Mt. Hood. The Mt. Hood Ski Patrol works alongside Timberline's full-time Professional Ski Patrol to service all of our guests on weekends and holidays.
For more information on the Mt. Hood Ski Patrol, and to donate vital funds that keep the Patrol running, please to visit their site.
Mt. Hood Ski Patrol