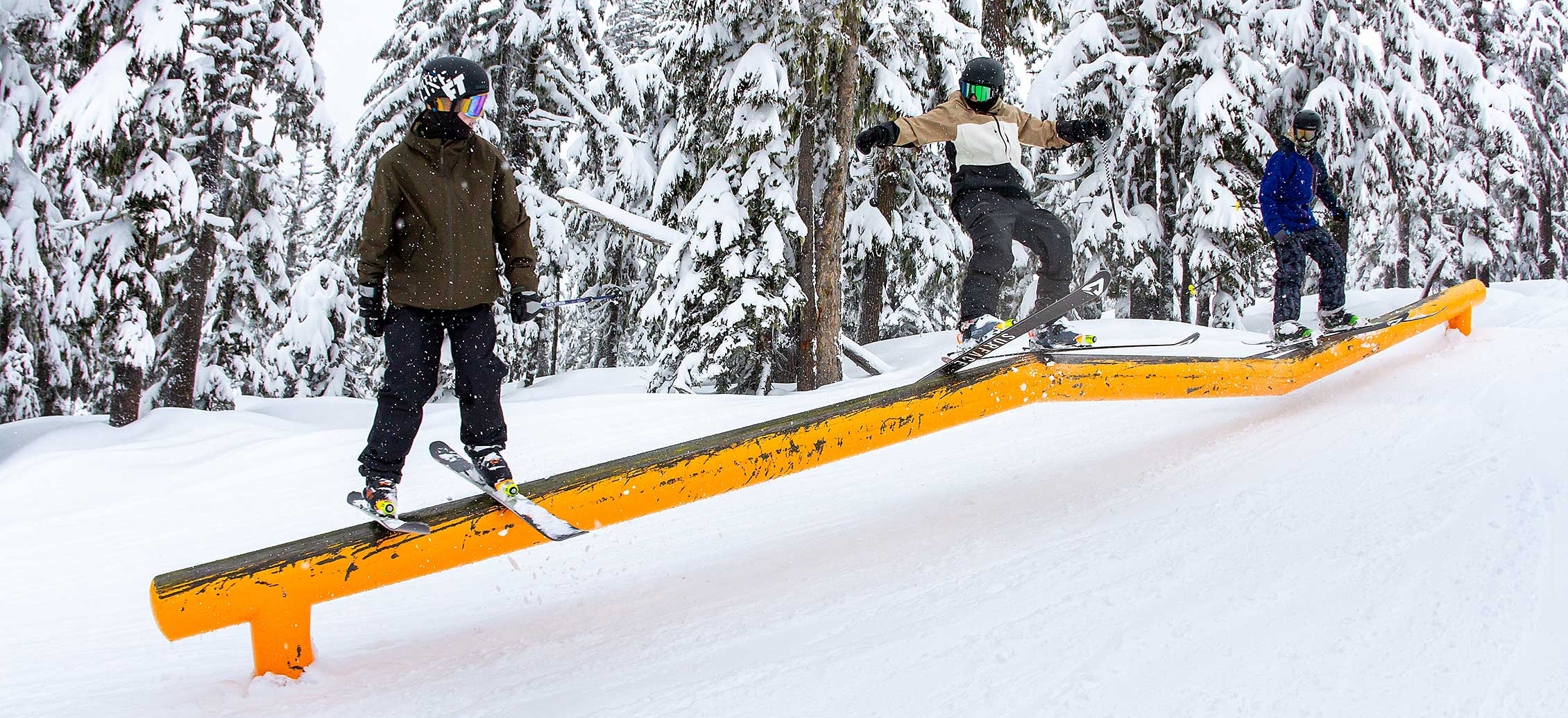 In search of world-class parks on Mt. Hood? Look no further. Timberline maintains multiple terrain parks throughout the year with enough jibs, jumps, and pipes to keep even the hardest of the hardcore happy. Timberline was a freestyle leader from the start. Back in the day, Palmer Snowfield was a testing ground for many of the types of features now seen in freestyle terrain parks around the globe.

Our Schoolyard Park is a cookie cutter beginner park. It's tucked away from the crowds and very spread out to encourage hiking the rails and learning tricks. It has been slightly expanded to include some terrain based learning a few rollers, banks, and terrain variations kept on the trail right next to the Schoolyard Park.

Thunder Park is built with 8-10 rails plus two jumps in the lower section. Thunder's jumps are in a new location, which allows some room to put rail features next to them. Conway's and Blossom Parks feature jump lines. Blossom's three jumps are a progression from small jumps to Conway's larger jumps.

As the winter season transitions to spring, Timberline's terrain parks crew works at collecting as much snow possible to ramp up the existing parks and add a couple more. Our Paintbrush Flow Park, reminiscent of a concrete skate park, is full of transitional snow features. Spraypaint jump line also debuts in the spring, featuring our largest jumps on hill. The upper jump links with the lower jump utilizing a high speed snow feature.

During the summer months, our freestyle terrain parks move up the mountain to follow the snowpack. In the early to mid summer, we build a park in what's known as the Mile Canyon that is accessible via our Magic Mile Chairlift. Later in the summer, we move again up to the Palmer snowfield to open the public lap park and the Freestyle Training Center (for more info on the FTC, keep scrolling). There are no 'small' features in these parks, and they are recommended for advanced skill level skiers and riders only. Please observe all posted signage, and if you have any questions don't hesitate to ask a member of our staff.

Freestyle Terrain may contain jumps, hits, ramps, banks, fun boxes, jibs, rails, halfpipes, quarterpipes, snowcross, bump terrain and other constructed or natural terrain features. PRIOR to using Freestyle Terrain, you are responsible for familiarizing yourself with Freestyle Terrain and obeying all instructions, warnings and signs. Freestyle skills require maintaining control on the ground, and in the air. Stay educated on all safety information and spread the knowledge.
Terrain Park Safety
Update 5/31/2020: The Timberline Freestyle Training Center (FTC) has been put on pause for Summer 2020. Due to covid uncertainty and giant planning hurdles for camps and our mountain operations, we could not responsibly move forward and create the elite level product, while maintaining the integrity and intention of the FTC as the premier World Class summer freestyle training center.

Skiers and riders can still expect a premier experience on Mt. Hood this summer. The Timberline Summer Freestyle park program will move forward and open June 29th - August 1st in the same Palmer park zone (where FTC was planned to be), with handle tow service and geared to freestyle progression with carefully designed and maintained features and terrain. The Timberline Summer Freestyle park program will still provide access to everyone for all abilities. Individuals, teams, coaches and camps will have access to the Timberline Summer Freestyle Park.

We look forward to seeing and supporting our summer camp and training partners and welcome the public to come up for some summer Freestyle action at Timberline. FTC will be back in 2021! Please stay happy and well.

This summer, qualified skiers and riders will have access to our elite level Freestyle Training Center (FTC). The Timberline FTC Pass offers lift-accessed skiing and riding Mondays - Saturdays, June 15th through August 1st, 2020 (halfpipe will operate June 15th - July 15th). FTC features will include a 22-foot Superpipe - cut by the legendary Timberline Grooming and Park Crew and world class pipe cutters, an all-new halfpipe spine airbag, progressive jump and transition features, rail and jib features of all shapes and sizes including top-level rail features, and a brand new BX/SX course with a world-cup spec start gate. Timberline's FTC Lift Ticket will be $110, and includes access to all public ski and snowboarding areas. Participants must sign release at time of purchase.
Learn More